Finding a great and affordable studio to shoot video in New York can be a challenge. At Space For Arts we have a wide selection of unique photo studios and locations, below are 10 of our best NYC studios for video (don't miss our popular listing of 12 photo studios under $650 a day). We have included both clean white studios and spaces that border on locations with lots of character and natural environments.
Here are 5 clean white studios perfect for video:
This spectacular Chelsea studio has high ceilings, huge windows, a skylight, a cyclorama, plenty of power, and state of the art EQ rental in house. It also has a removable wall for two medium size studios.
Bright downtown Manhattan 1,000 square feet soundproof loft with a beautiful brick wall, exposed beams, full kitchen and great light. Gorgeous space at South Street Seaport, direct access to the street, great brick wall, wood beams, 14 ft ceiling, wood floor, good amperage. Hair and make up furnishing, clothing rack and steamer available. Photography equipment available upon request for additional costs. Seating for small groups included with rental. Other equipment can be made available – more chairs, more tables, projector, seamless, full length mirrors, etc – can be provided for an extra fee – feel free to ask! No smoking in the loft. We allow to bring your own caterers and beverages as well as you can order these services from us.
An authentic north-light studio, a north-facing wall of windows plus a glass ceiling allows for continuous soft light. Each window bay is installed with remote controlled, custom fit shades, giving the photographer full command over the amount and direction of light entering the space. Bonus: Rooftop Included!
Originally a carriage house the loft is a generous 2000 square feet. It has a full kitchen with large kitchen island for catering or food preparation. The ceiling height is 11′.They also  also have a rooftop with amazing views (which rents at an additional cost) looking east of The Empire State Building and The New Yorker Hotel. The loft is located on the edge of Hudson Yards and Hells Kitchen. The building's enormous 10'x20′ freight elevator used to take the horses up and down through the floors. The 10′ elevator doors open up directly into the loft.
This split level Tribecca studio on the South side of Soho is clean and crisp offering interesting angles and a professional creative environment.
And here are 5 video studios that have character:
A classic and comfortable NYC loft atmosphere with exposed brick walls, hardwood floors, and vintage furnishings. The two exposures with unobstructed daylight and views provide a light and airy work space for client and crew. A basic grip and production package is included in all studio bookings. Located at the northern tip of Greenpoint, they offer a full cyclorama, abundant natural daylight, and equipment rental.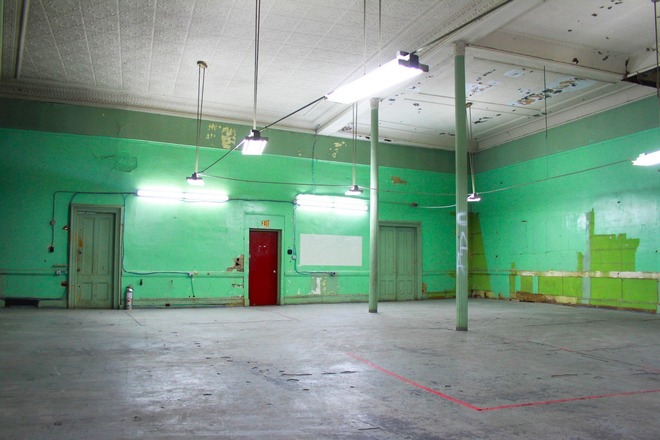 Located in an old Bedstuy bank, this 2500 square foot open space is available for shoots and exhibits. Tucked away in a discrete and windowless building, the ceilings are 18 feet high and covered in pressed tin. The space is raw and industrial but boasts ornate details like cast iron columns and the bank's original wood shutters. Ideal for the host seeking that gritty, 1970s New York artist's loft feel.
This 4,000 square foot, ground-floor studio space is unlike any other in the city. With a 26′ x 26′ white cyclorama, several "ready to go" location backdrops, and thousands of props, the creative possibilities for your production are limitless. We also offer in-house set design and styling services. Rental rates can vary based on the use of additional spaces, props, and equipment, to contact us for a customized quote.
A welcoming photography studio located on the Greenpoint Brooklyn waterfront with 4 unique rental spaces that can be combined. AMENITIES: Air Condition, Heat, Hair & Makeup Station, Mini Fridge, Coffee Maker, Microwave, Garment Rack and Steamer, Black out Curtains, Sonos Wireless Speakers, Equipment Rentals, Wi-fi, and a Freight Elevator
This 3,500 square foot space has been left intentionally raw for full build-outs and black box shoots. With 14′ – 15′ ceilings, plenty of power and drive in access this location is ideal for any scale of shoot. An adjacent client lounge and talent holding area is also available and included in the rental.